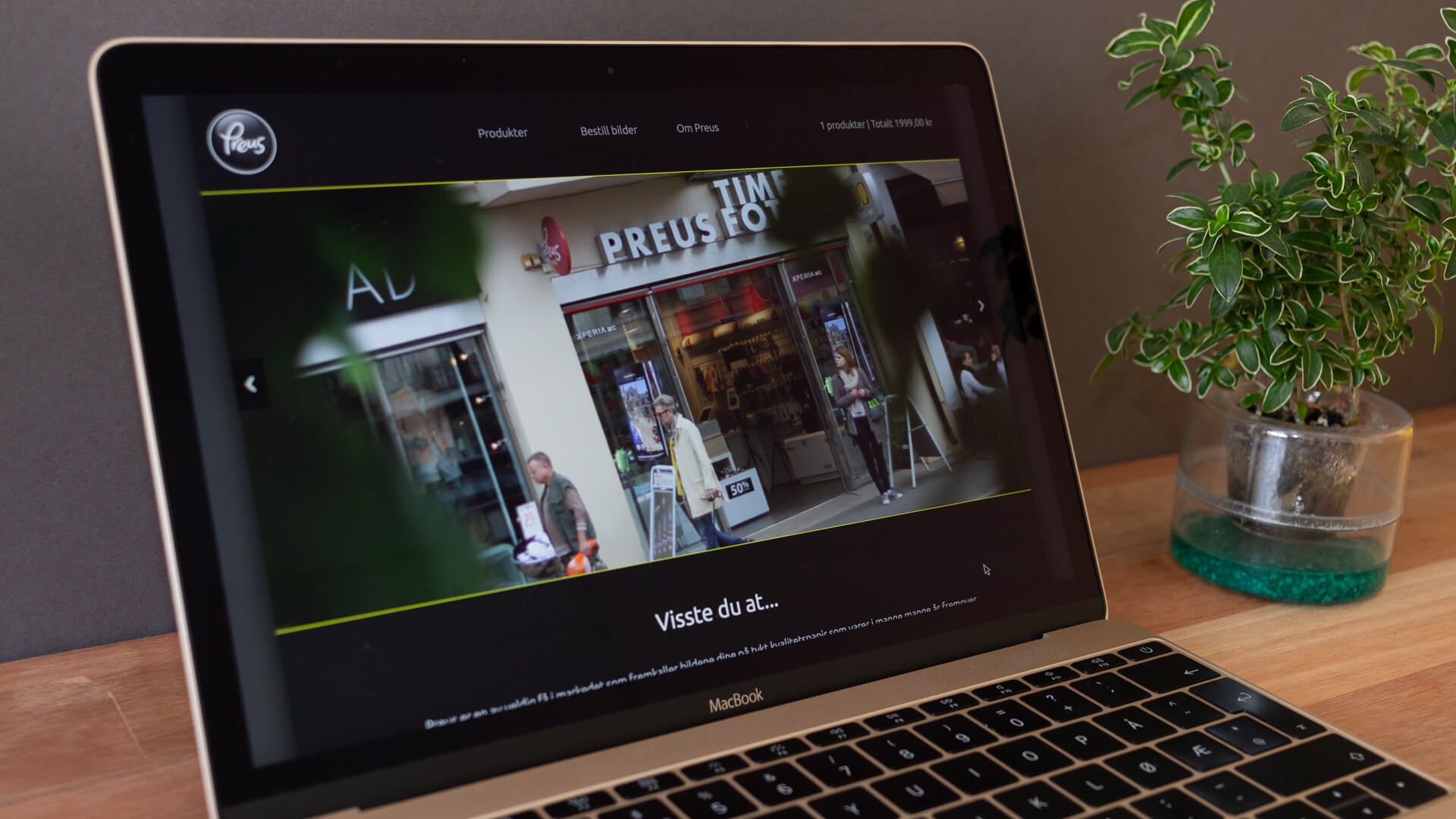 Home page header with slide show for campaigns and image of one of the store fronts.
Preus - Consulting with focus on delivering the best digital experience
When Preus contacted me and asked for help to upgrade the digital experience, of course I said yes. Preus is a company with long traditions in norwegian business landscaping. After the first meeting it was very clear for me that this project was going to be a big undertaking. Including rebranding and redesigning of the digital surfaces, redesign of the graphical design style for the store, ad material for printing and digital ads, it was as well many strategic, training and brainstorming sessions with the stakeholders.
For a period over several years we worked closely together as if I was sitting in-house with the stakeholders, but with the economic benefits for the customer of me being outsourced. We worked on pros and cons for different strategic scenarios, in order to find the best way forward for the rebrand and redesign project. This over time involved many different parts of the business even on the personal customer care in the store.
One of the primary areas was a complete overhaul for the webshop and image upload experience, witch was delivered from a third-party. I worked close with the suppliers to add the new direction, design and strategy, and to setup launch campaigns when the new strategy was in place like this email campaigns, for later to train in-house employees to continue the campaigns without external help. I also trained the in-house employees on day-to-day operations of the website and everything involved to maintain the long term brand equity.
One of the parts of the project was to make the brand look and feel more modern and exclusive in the same process. One of the things that was very important was to retain brand recognition for logo, since its been with the company for a very long time, and was carrying a lot of brand capital. Another paramount of the rebranding was to keep the human capital clearly visible in the brand and marketing efforts.
The store chain was later sold to a competing company. Together we executed several successes over the course of the project lifetime. For example deliver 10x revenue increase in sales compared to the same months the year before thru the web platform. We also won a test off all photo developing stores done by a major norwegian newspaper, but we did not stop there. We also worked on getting the employees in the game by designing and developing an inspiring intranet for them where they can see sales numbers and filled with tools for better in-store customer care.
An interviewed Harald Sandvik, the Preus CEO about the collaboration. (Coming soon)